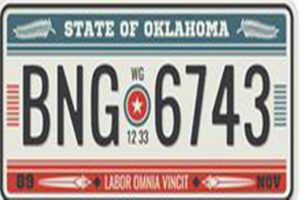 It may seem like a trivial thing, but where you place your license plate on your vehicle in Oklahoma matters. Some states require that license plates be affixed to the front grill of a car, some states require it to be affixed above the rear bumper, and some states require both front and rear plates. Regardless of what your state requires, people get used to looking for the plate in the same place within a state and standardizing the location of the plate can ensure that the plate is quickly readable when seconds matter most. Improper display of license plate is therefore a crime in Wagoner, Oklahoma.
Oklahoma Law Regarding License Plates
Oklahoma law requires the license plate be securely attached to the vehicle and displayed on the rear of the vehicle. The license plate must be clearly visible and unobstructed at all times. Even clear material may not be placed over the plate. Okla. Stat. tit. 47 § 1113
Keeping your license plate inside your car on the top of your dashboard is a violation of the law. So is obscuring the numbers if your license plate. A paper which blocks the plate number could be a problem.
Truck-tractor plates are different in Oklahoma. Truck-tractor plates must be securely attached and displayed on the front of the vehicle. Any placement of a license plate in contravention with these rules is considered improper display of license plate.
The Tax Commission retains the right to change the manner, place, and location of display of any vehicle license plate when such action is deemed in the public interest, with the concurrence of the Department of Public Safety, by Joint Rule.
Bike Racks May Be a Problem
As biking becomes more and more popular, more cars are being fitted with rear bike racks. When you add bikes onto the rack, you could be in violation of this statute if your license plate is obscured.
The same can be true of a trailer hitch. If it impairs the visibility of your plate, you could get a citation. When purchasing either of these, ensure your license plate is still visible.
Penalties for Improper Display of License Plate
The penalty is usually a citation. While the fine and court costs for this infraction are fairly minimal, you could end up with multiple citations that can add up quickly.
Multiple citations can pose other problems as well. Your vehicle could end up being "booted" or impounded. If that happens, you will be stuck with additional court costs, fines, and impound fees. If you fail to remedy the situation, your vehicle may be sold. Okla. Stat. tit. 47 § 1115.1
If you lose the license plate, or if it was stolen, file a police report. Then, you can get a replacement by filing an affidavit with the appropriate agency. Okla. Stat. tit. 47 § 1114
If you have questions or need help resolving an improper display of license plate issue, call an experienced Wagoner criminal law attorney. We can help.
Free Consultation: Wagoner Criminal Defense Attorney
When you or someone you care about is facing charges for this or any other crime, the criminal defense lawyers at Wirth Law Office – Wagoner are here to provide you a free consultation to discuss what our team could do to handle your criminal matter.
Contact us at 918-485-0335 to schedule your confidential and no-cost consultation. You may also contact us by email using the form at the top of this page. Either way you reach out to our team, we'll get back to you promptly to answer your legal questions.